For most freelancers, having a strong portfolio that shows what they can do is far more powerful than simply telling potential clients what they can offer them. One way to really show what you can do is by doing a teardown – in this article, we're going to explain exactly what this is and how to do one yourself.
---
In this article we'll cover:
What is a teardown?
A teardown essentially involves breaking down the components of a product or website in order to identify and analyze key parts and how they are working looking for improvement's opportunities.
Easily put, it's kind of giving feedback from your professional point of view about the product at hand. That means that your teardown will be mainly focused on your niche.
A teardown can be excellent to showcase your skills and show potential clients why they need your services.
If you are a web designer, you'll focus on analyzing the design of the site and the things that can be improved: colors, figures, pages, positions, etc.
As a UX designer, your teardown could focus on: Does the user understand immediately what the website is about and what the next steps are to do what he wants to?
While if you are working as a business consultant, you might want to discuss the business model or pricing strategy of a particular service.
A teardown can be excellent at showing what elements of a website may not be working effectively, allowing you to really showcase your skills to potential clients and show them why they need your services.
Benefits of Creating Teardowns as a Freelancer
There are many benefits to creating teardowns for your potential clients. These include:
#1 Connection with potential clients
Creating a teardown for a potential client's website is an excellent way of connecting with them directly, showing exactly why they need your services as a freelancer and what you can help them achieve.
#2 Real examples of your knowledge
There is no better way of providing proof of your experience and knowledge as a freelancer than showing your prospective clients. A teardown shows exactly how you see a website and what you would do to improve it. In the same way, you can show how to improve a process other than a website. For example, as a SEO expert you could show how you would optimize content to rank it better on Google.
#3 Brand awareness
While teardowns are useful to show your potential clients, they are also useful for creating more awareness about your brand as a freelancer. Share your teardowns publicly on your social media platforms as evidence of your experience to help further establish yourself as an expert in your niche.
#4 Use as a case study or in your portfolio
If you take on a client after creating a teardown for their website, this can provide an excellent case study that you can then use as a testimonial on your website. Testimonials are another fantastic way of showing future clients that they're hiring a freelancer who will deliver.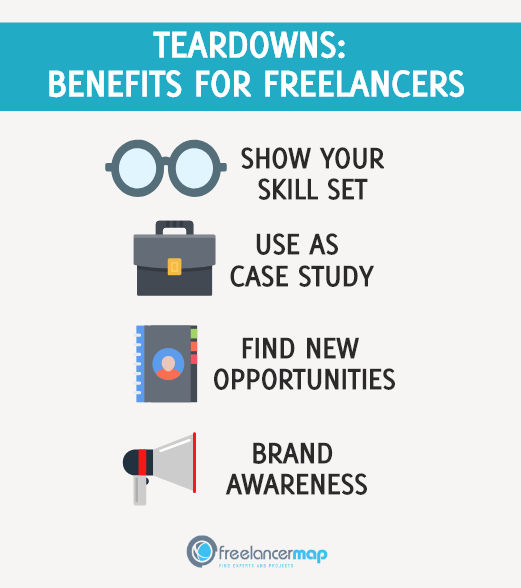 How to create a teardown to showcase your skills
Teardowns focus on multiple elements of a website, analyzing how each one works and whether it positively contributes towards building an environment that may encourage visitors to convert into clients.
1. Select the product, service or website
You don't have to be targeting a particular client in order to create a teardown. You could instead pick a well-known website in the same niche in which you are looking for clients.
In this teardown, for example, Val Geisler chooses to do a teardown of CoSchedule's email onboarding to showcase her expertise in this field.
2. Make a checklist with things to analyze
When creating a teardown yourself, you will need to identify which elements you will be breaking down. Below, we identified some of the most common components you might cover, although this list is not exhaustive.
If you are a web designer, for example, there are some elements that make more sense to break down than if you are a copywriter.
Things you might analyze on the home page as a web designer include:
Load time
Layout
Header
URL
Copy
Links
Navigation
Things you could analyze on a landing page as a copywriter:
Structure (headline, lists, subheadings)
Text length
Words used
Writing style
CTA used
3. Find good things and improvements
Now you have your checklist of the components you will analyze. You need to go through each one and decide if they need to improve to decide how to include them in your teardown.
Following with the previous website example, things you might look at include:
Does the page load within 3 seconds? If not, the website may be losing a huge percentage of visitors simply because of its slow loading time.
Does the layout look professional, with a clear logo and branding theme across the page? Aesthetic details like this can make an enormous difference to the first impression a potential client has on a website.
Likewise, is the header clear, with concise, well-written copy that explains why the website exists, and who it is for? These details, in particular, should be above-the-fold features that immediately assert the reason for the website existing and who it is relevant to (i.e. your clients).
Is the menu clearly laid out, and easy to navigate? Does the website have relevant links to an 'about' page, a 'testimonials' page, a portfolio? What about a blog page? Or are you left wondering where to click for more information from the home page? This is exactly the sort of thing a teardown should assess.
4. Present the results
You have been analyzing the web or the product that you have chosen, and now it is time for you to show your findings. This means which parts are working and which ones you would improve.
There are different formats to do a teardown and present your ideas.
A few teardown formats are:
Blog post + screenshots
Blog post + podcast
Presentation with slides (e.g. PowerPoint)
Personal video explaining the key points
Screen recording + voice-over
Podcast
Of course you can make a combination of all these formats (and any other you might want to use) to offer the teardown to different people that want to consume content in a different way.
In the example of Val Geisler that we mentioned before, Val uses her blog to do the e-mail onboarding teardowns and combine screenshots with text.  In addition to making her comments as she presents the sequence of emails, she includes examples with improved e-mails that she would use and ends up summarizing the good uses, the bad uses and the ugly ones.
Now it's your turn!
Have you ever done a teardown to show what you can do as a freelancer? Let us know what components you covered in your teardown, and if it helped!