How many hours per week do freelancers work?
To get a better idea of how much work freelancers really put in, we asked our community to share details about their work week with us. Here are the results:
The average amount of hours our 1,386 survey participants spend working weekly is more than that of the average employee - approximately 47 hours! Just a quarter of the members of our community spend less than 40 hours a week on their job. Freelancers take their work seriously and invest a lot of time into their projects.
In fact, over 40 percent of our survey participants work more than 40 hours. A quarter even work more than 50 hours a week. Assuming they only work from Monday to Thursday, that's a minimum of ten hours a day spent on freelancing projects! Around seven percent of participants are really pushing their work to the limit and hitting over 60 work hours a week.

Lounging around in pajamas? Quite the opposite.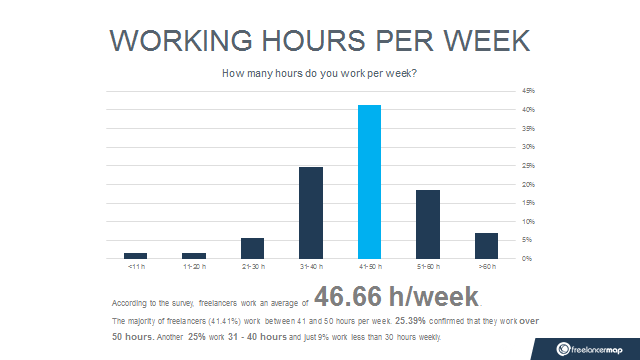 A 46 hour working week? Freelancers also work long hours!
It's obvious why work-life balance is such an important issue to freelancing communities. Freelancing is about nurturing your skills and ideas and turning them into a business - that can be very demanding. But remember, it's not just about working a lot, it's about doing so in a smart way. As any freelancer knows, organizing your time and spending less time on secondary tasks, is how you ensure your time is being used efficiently!

Are you intrigued to learn more about the survey results? Download a free copy now!

How many hours do you put in every week? How do you handle the pressure? We're here to listen if you want to share - just comment below this article!
Create your freelance profile and land new projects without any fees!
More articles
Comments
Comment this article