The strength of our site was our style; we make
bold and colourful illustrations and animations.
We made sure to incorporate this in our website; there were five in-between animations running on the one page website to divide the different sections.

We ended up working the whole year on our new website www.studioschurk.nl and we would like to share some tips.

1. Select good portfolio work

It is very tempting to pack your website with all the work you've ever made. You have something from a school assignment, some funny things you did for yourself and a lot of client work. Less is more applies here. Make some clear categories in which you now work and find work that fits those categories. It is fine to only post 3 or 4 items on a category; quality is always more important than quantity.

Another tip in selecting your portfolio work: think about the future! It might be a smart move to only show the categories and the projects you would like to do now. For example, we love to make illustrative logos. So instead of placing all the logos we ever made, including text logos etc., we only placed the illustrative logos we love to make.

The work must be good enough to speak for itself, but it really helps to explain the assignment. In our first website we just placed the work with a title and no text at all. In our new website we chose to give background information about the projects. We told about the client, the goal of the assignment and the result. We did this in a creative way by calling our 'About the Client' section 'the King' (Customer is King), the assignment 'the Dilemma' and the end result 'the Loot'. (This is because "Studio Schurk" means "Studio Rogue" in English).
2. Less is more
When Studio Schurk started seven years ago, we made our very first website and thought clients would love the fact that we could design the whole package: with the combination of a
graphic designer and a digital designer
we could do everything from start to finish. So we placed this on our website. We wanted potential clients to know that we could do their complete branding, all their paintwork, make them a good website, do online marketing and Google optimisation. And, if they wanted to, we could also make them a killer animation.

We thought this would be great for new clients because they only need one design company to make everything for them. As it turned out, it was the opposite. Clients came to us only for digital or print. People didn't believe that a small company could do everything and decided to split the work between different companies.

Now we only talk about a few things on our website: illustration (and everything that comes with it like infographics and illustrative logo designs), animation and online marketing. It turns out people will better trust a company with one particular specialization, and when the client sees the work they may ask if that company can do other things for them..


3. Content is King!
Let's be honest; we are no copywriters. In our first website we did not have much text. We asked a good copywriter to write us a little 'About Studio Schurk' piece and that was that. Not having much text is
scaring off a lot of potential clients
who may not know exactly what they need, and it
scares off Google
for sure!
This time we asked the same copywriter, who writes really creative in a style that fits Studio Schurk, to write text for us explaining everything we do. Now we have pages explaining the types of illustration, animation, web design, etc. that we offer. This gives us an advantage on Google and also informs clients about what they need. It might even give them new perspectives on their project.

Make sure the text is without typos and understandable for a client who does not really know your type of work (we sometimes get calls for illustration while people mean animation, etc.).


4. Stand out; be creative!
As a creative freelancer it is really important to show your creative skills in your portfolio website. There are a lot of freelancers, and there are a lot of nice templates for websites that look sharp, but are not particularly creative. The reason we were mentioned as an inspirational example was because our website was completely different than the other similar websites. The way we talk about ourselves and what we do is different, along with the animations with big colourful worlds and funny characters.
It is a thin line because you don't want to be too creative and over-the-top, as you run the risk of scaring off potential big clients, but that is a choice you have to make for yourself. We chose to be creative and have a bold intro text: "If you dare to colour outside the lines and think outside the box, we can make you happy." This might scare off some really serious corporate clients, but our choice was that the clients who got scared form this text probably wouldn't make us happy either.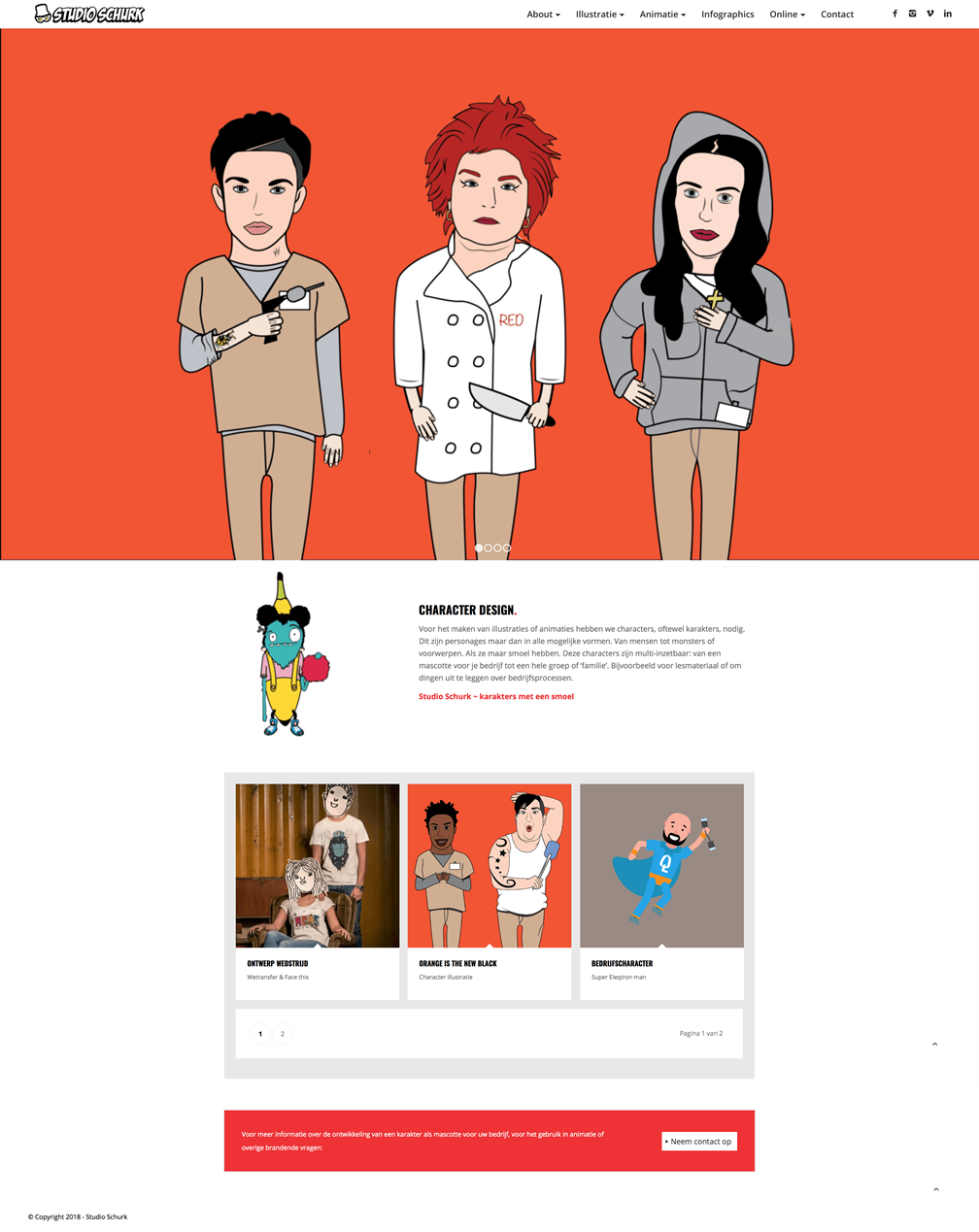 5. Call me maybe
The most annoying thing on a website is
having to search for information.
Make sure your clients get many opportunities for a call to action. Some
SEO experts
say it's best to place a call to action (for example a "call me" button, or an "ask for more information button") in every page, but personally I think this is annoying to visitors. What we did is place the
contact button in the menu,
on the homepage and on the main pages of our work. We didn't think it was necessary to place a button under every project and every page.
We really hope some of these tips help you building your own unique portfolio!

Kind regards,
Studio Schurk
Create your freelance profile and land new projects without any fees!
More articles
Comments
Comment this article